Nell'Antro del Re della Montagna (In the hall of the mountain king) è un brano di musica orchestrale composto da Edvard Grieg nel 1875, facente parte del Peer Gynt prima (opera di Ibsen, della quale Grieg scrisse le musiche di scena), e della Suite op.46 dopo (formata dalle stesse musiche del Peer Gynt).
Lo spartito descrive una ridda di gnomi e folletti che risuona infernale nell'antro del re Dovregubben, di fronte al quale attende il protagonista della storia Peer Gynt. Una progressiva accelerazione segna il passo di un brano musicale tra i più coinvolgenti ed immediati mai scritti in musica classica, ancor oggi utilizzato nelle più svariate occasioni.
IN THE HALL OF THE MOUNTAIN KING, dal Peer Gynt di Grieg
Spartito gratis per 5 violoncelli
Compositore: Edvard Grieg
Arrangiatore: Federica Ferro
Organico: 5 violoncelli
Genere: Musica Classica
La struttura stessa di questo brano di Grieg suggerisce una disposizione sempre diversa dei cinque violoncelli. Inizialmente il primo resta in silenzio, il quarto suona la melodia, il quinto scandisce il battere, secondo e terzo scandiscono il levare (sostenuti dopo qualche battuta anche dal primo). E' solo l'inizio di In the Hall of the Mountain King.
Il prosieguo dello spartito vede impegnato ogni violoncello, alternativamente, nella realizzazione del tema, e tutti gli altri intenti a realizzare forme di accompagnamento sempre diverse, via via più serrate e stringenti, man mano che la concitazione del brano lo richieda. Un esercizio importante, per costruire un senso dell'insieme fondato sul respiro comune, nelle nostre scuole ad indirizzo musicale.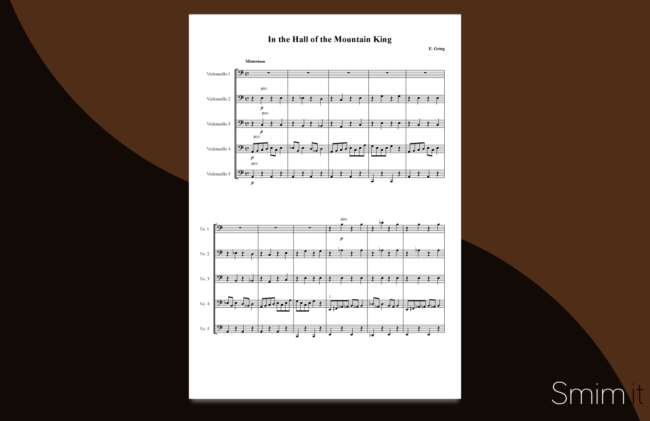 O richiedi il formato Mus, Sib, Mscz, Xml