Quando si ascoltano le note di Joy to the World, in particolare l'esordio, si ha effettivamente l'impressione di ascoltare il coro del Messiah di Handel, in Lift up your Heads. Ma da qui a dire che Joy to the World è opera di Handel, ce ne passa. Si tratta di una scaletta discendente formata da quattro note quattro, di cui la seconda, puntata. Non è sufficiente per attribuire la paternità di un'opera.
Non è sufficiente nemmeno la nota del 1839 di Lowell Mason, il quale inserisce Antioch nella sua raccolta di salmi, dicendo di averlo arrangiato a partire da uno spartito di Handel. E' più credibile abbia utilizzato una canzone preesistente per musicare il testo di Isaac Watts (del 1719). La versione più conosciuta del canto natalizio è comunque quella del 1848, anno in cui furono definitivamente fissati titolo, testo, e musica.
JOY TO THE WORLD
Canto natalizio tradizionale
Spartito gratis per Quartetto di Flauti
Compositore: Lowell Mason
Arrangiatore: Anonimo
Organico: 4 Flauti
Genere: Canti Natalizi
Difficoltà: Intermedia
L'autore di questo arrangiamento di Joy to the World per quartetto di flauti di Scuola Media ad Indirizzo Musicale, esordisce con una sorta di eco lontana delle prime quattro note, cui segue in canone la voce squillante del flauto 2, ed una quarta sotto quella del flauto 3. L'intreccio delle voci si fa più fitto una volta che il tema principale è stato chiarito, in special modo con l'inserto di crome lì dove il tema invece staziona.
Nel prosieguo dello spartito lo schema delle priorità è continuamente cangiante: il tema è costantemente nelle mani del flauto 1, ma finisce per diventare solo un collante ed un pretesto melodico per intrecciare ghirigori, volatine, domande, risposte, tra le tre rimanenti voci. Ed in effetti è questo dialogo a rappresentare la parte divertente e forse più interessante di questa proposta di musica d'insieme.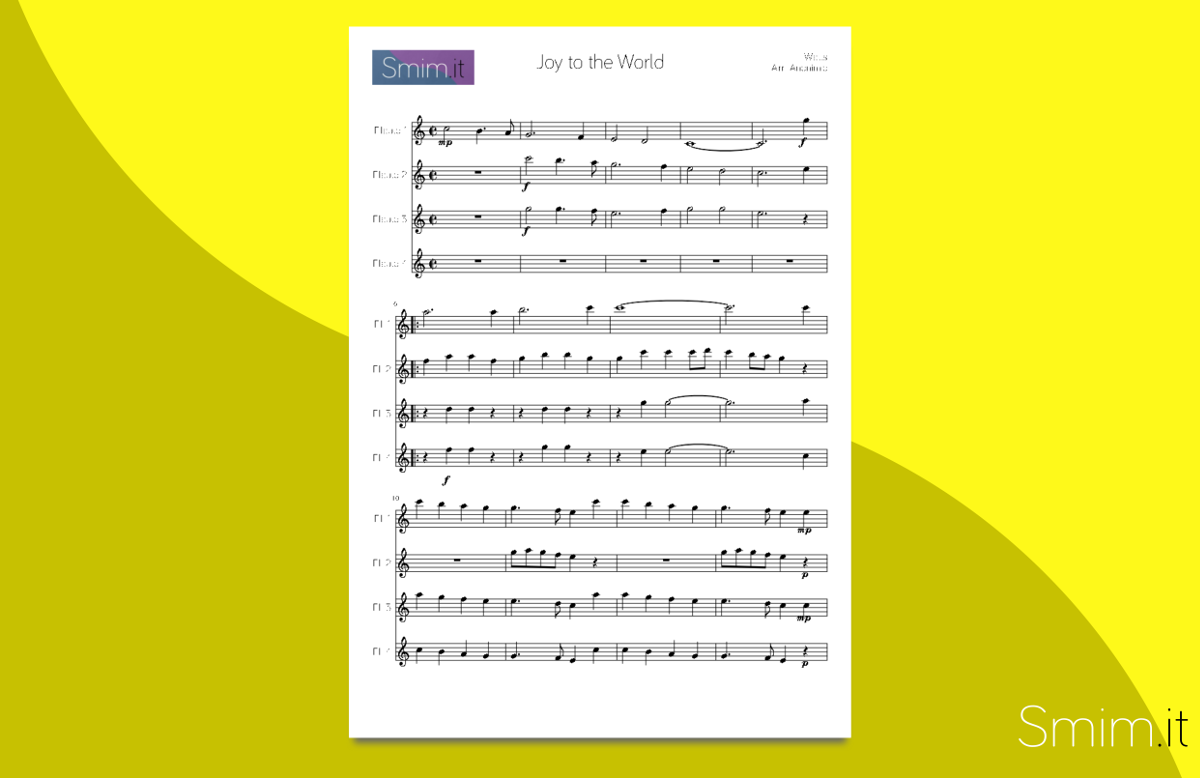 O richiedi il formato Mus, Sib, Mscz, Xml