The Entertainer è una composizione di Scott Joplin, autore che oggi è noto a tutto il mondo, ma al tempo in cui fu pubblicato il brano (1902), non godeva certo della fama di cui gode oggi. The Entertainer, in particolare, venne diffuso presso il grande pubblico molti anni dopo grazie al cinema: La Stangata, infatti, film del 1973, lo utilizzò come colonna sonora.
E nel 1974 lo spartito di Joplin, nell'adattamento di Marvin Hamlisch, arrivò ad ottenere l'Oscar. Scott Joplin ovviamente non ha potuto assistere al successo della sua composizione, perchè morì qualche decennio prima della consacrazione. Resta il fatto che tutti i temi utilizzati in questa frizzante pagina di ragtime sono rimasti celebri. In particolare il primo.
THE ENTERTAINER, di Scott Joplin
Spartito gratis per ensemble di flauti
Compositore: Scott Joplin
Arrangiatore: Eliana Moscato
Organico: 4 flauti
Genere: Jazz
L'introduzione con il richiamo della cellula tematica da parte di più strumenti in serie, si direbbe quasi un dovere, cui Eliana Moscato non si sottrae, nel suo arrangiamento di The Entertainer, per quartetto di flauti di scuola media ad indirizzo musicale. La domanda del tema, al contrario di quanto accade solitamente, viene posta dal flauto quarto, mentre la risposta è un quattro mani flautistico tra primo e secondo.
Il secondo tema è invece, secondo tradizione più consolidata, prerogativa quasi esclusiva del flauto 1, cui s'accoda spesso in parallelo il flauto 2. Quanto più si vuole puntare l'attenzione sull'armonia, piuttosto che sul virtuosismo melodico, tanto più le rimanenti linee schiariscono lo spartito con serie di crome o saliscendi di semiminime.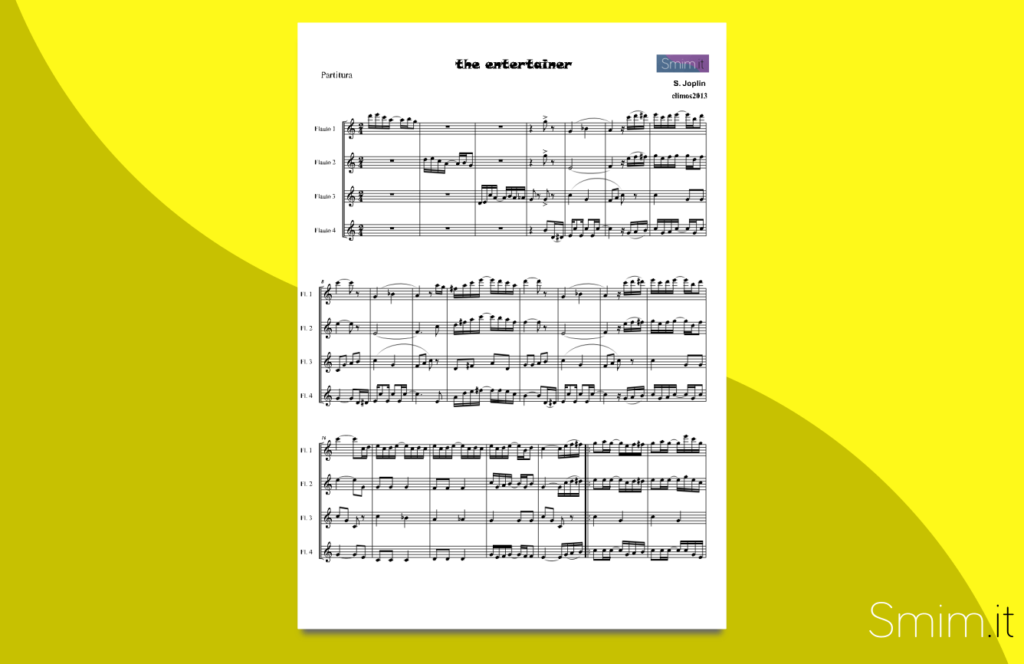 O richiedi il formato Mus, Sib, Mscz, Xml